Azure
Azure Virtual Desktop: Migration and Modernization Strategy
Adopting AVD is achieved through migrating existing desktop infrastructure to the Cloud, and ii) modernizing the applications that deploy to the desktops.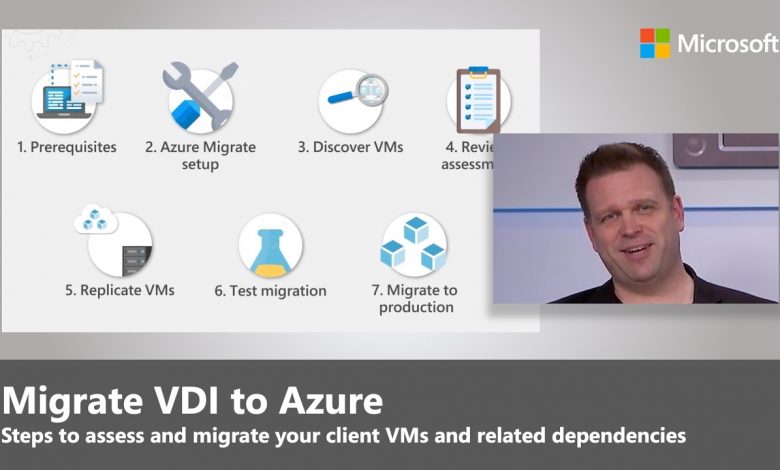 As Microsoft describes here a common use case for Azure Virtual Desktop is to modernize an existing virtual desktop environment.
While the process can vary, there are several components to a successful migration, like session hosts, user profiles, images, and applications.
At the high level there are two main considerations and requirements: i) Migrating the desktop infrastructure to the Cloud, and ii) modernizing the applications that deploy to the desktops.
Cloud Migration
If you're migrating existing VMs, you can review articles on migration to learn how tools like Movere and Azure Migrate can speed up your migration as part of a standard migration process.
However, your migration might consist of bringing your golden image into Azure and provisioning a new Azure Virtual Desktop host pool with new session hosts. You can migrate your existing user profiles into Azure and build new host pools and session hosts as well.
In this presentation Jeremy Chapman shares a walk through all the steps an admin will take to assess and migrate client virtual machines (VMs) and their related dependencies to Azure, using Azure Migrate, which provides tooling and monitoring to both Microsoft and partner migration services for moving servers, databases, websites, and virtual desktop infrastructure to the cloud.
This includes two primary paths:
Migrate your existing host infrastructure to new Azure Virtual Desktop host infrastructure on Azure and tailor your VDI images to the new environment (great for shared virtual machines).
Choose to replicate existing persistent virtual machines to the new infrastructure (works well for user-dedicated, personal VMs).
Application Modernization
They also highlight "A final migration scenario might include migrating your applications into MSIX app attach format."
MSIX App Attach is a packaging format that offers many features aimed to improve packaging experience for all Windows apps. MSIX app attach is a way to deliver MSIX applications to Azure Virtual Desktop virtual machines. However, MSIX app attach is different from regular MSIX because it's made especially for supported products, such as Azure Virtual Desktop.
Microsoft's App-V solution is the most commonly used application virtualization and delivery solution for enterprise organizations worldwide. However, after having no new features added for years now, App-V officially will become end of life in 2026. Its successor is 'MSIX' – The two are compared here.
In this Desktops in the Cloud webinar Microsoft MVP and renowned expert in this field Tim Mangan talks about about App-V: The Story So Far, and how MSIX will be the evolution of this. He also talks about the exact differences between the two solutions and shares guidance on how you can package an own Windows application into MSIX and MSIX app attach – completely automated!
In other webinar talks Tim explores the detail of MSIX strategies, including this one on MSIX packaging fundamentals and App V migration scenarios, and in this session Tim and Bogdan Mitrache take you on an insightful journey through migrating from App-V to MSIX, covering:
00:44 | What is the story of end-of-life on App-V? Is it 2026 or not?
03:45 | What is Microsoft's recommendation for customers? Do we have other options?
07:10 | Why would App-V users be more interested in MSIX than others?
11:57 | Do you have any updates on the latest application compatibility stats with MSIX?
18:08 | How can we convert existing App-V Packages to MSIX?
25:24 | Is there an automated solution for migrating our scripts?
32:07 | What would a project look like to convert over?
39:32 | Is MSIX App Attach the way to go on AVD?